Spain, located on the southwest Europe is the third biggest country in Europe comprising most of the Iberian Peninsula, the Balearic and the Canary Islands.

Spain hosts millions of holidaymakers every year with its golden sandy beaches, spectacular nature, romantic and beautiful coastlines, luxury hotels, culture, art and all kind of holiday activities. World famous Costas, heavenly Balearic Islands, volcanic Canary Islands, the Basque Country, the ancient Castilla y León, wine land of Castilla La Mancha, metropolitan cities of Barcelona, Madrid & Valencia are the popular holiday destinations in Spain. Ibiza and Majorca are the world famous top holiday destinations of the Balearic Islands of Spain.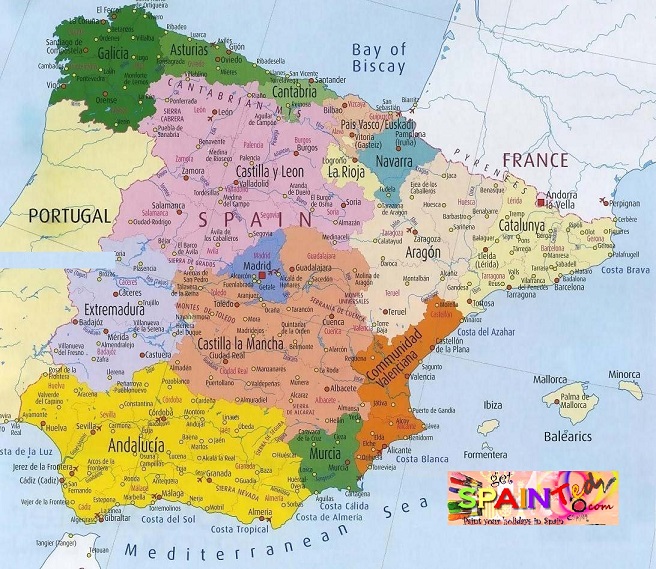 Popular Beach Holiday Destinations & Resorts in Spain
The coasts of Spain are washed by the Atlantic Ocean on the north and by the Mediterranean Sea on the south. Spain's coastline measures more than 4,000 kilometers divided into six larger sections including Costa Brava, Costa Dorada, Costa del Azahar, Costa Blanca, Costa del Sol and Costa de la Luz. Even though every Spanish beach boasts an excellent climate and decent beauties of nature, the most visited is Costa del Sol. Its wonderful coast belt and excellent golden sandy beaches is very ideal for summer beach and family holidays in Spain.

Costa del Sol Holidays
Costa del Sol is is one of the most popular holiday destinations with 150 miles of coastline. It is known as beautiful, rich in culture, cosmopolitan and magical.

Costa Brava Holidays
Costa Brava is one of the most beautiful and romantic coastline in Spain. It will have you hooked with its golden sandy beaches, beauty and Barcelona on its next door.

Majorca Holidays
Majorca (Mallorca) is a charming island hosting the perfect deep blue Mediterranean and 350 miles of clear coastlines. It is Europe's busiest holiday island.

Ibiza Holidays
From sunrise to sunset, you'll find golden sandy beaches and extraordinary nightlife activities where you can discover thousands of ways to enjoy the Ibiza's warm waters, its sun and crazy nights.

Tenerife Holidays
Tenerife is the largest among the Canary Islands with over 350 kilometers of coastline and wide variety of beaches.

Fuerteventura Holidays
Fuerteventura has the best beaches & natural beauty whilst the dramatic volcanic scenery is dotted with little white villages & windmills & coasts.

Gran Canaria Holidays
Beautiful landscape with great diversity of climate, golden sandy beaches, best hotels has led the island one of the best holiday destination in Europe.

Lanzarote Holidays
With variety of beaches, volcanic landscape and attractions, Lanzarote is an intriguing island full of surprises for the holidaymakers.

Palma in Majorca
Palma de Mallorca is the beautiful capital of Majorca with its spectacular beaches and bays. This lovely capital city of Palma is one of the most beautiful in Spain.

Benidorm in Costa Blanca
Benidorm is the biggest choice of the millions of holidaymakers every year and it is Costa Blanca's major beach holidays resort and the ultimate destination.

Barcelona City Breaks
Barcelona is a world famous culture, art, business and holiday destination in Spain along with its metropolitan city life, culture & art, entertainment & nightlife, football team, etc.

Madrid City Breaks
Madrid is a world famous and Europe's highest capital city as well as the most liveliest, friendliest, generous and most culturally stimulating one. It is considered as the city that never sleeps.

Toledo
Toledo in Madrid is one of Spain's luxuries and UNESCO's World Heritage Cities since 1986. Toledo has taken great care of its unique heritage, which dates back as far as the Neolithic.

Córdoba
Córdoba in Andalucia is a spectacular city with its long history. Travelers are advised to stroll through the narrow streets and secluded squares carved in deep history.






Spain Travel Articles

7 Unique And Unusual Destinations In Spain - Spain is one of Europe's leading tourist destinations.

Off the beaten track in Spain - Review of the top 3 Lesser Known Spanish Destinations & holiday in Spain

Spanish holidays for foodies - Advice driven article about about Spanish Island Cuisine & Holidays in Tenerife

Cost Cutting Tips - Advice driven article about Finding Economically Friendly holidays & cheap holidays